Drungli is an adventure generator for the spontaneous traveller, offering an easy-to-use search engine to locate low cost flights. Co-founder and CEO Orsolya Toth was kind enough to share a few moments with Shoreditch Office Space during a recent trip to Bloomberg's Grow 2 event.
Give us a brief overview of your background and how you came to co-found Drungli.
So I was always fascinated by communication and people's behaviour. I studied economics, communication, advertising and then a sociology, and worked as an advertising agency account for 6 years. At one point my friends convinced me to start an online communication agency with them and it was a really important experience. I learned how I enjoy building up a business, working for myself and my team, and have the creativity of doing everything, down to the smallest detail, as I would like to do it.
That was also the job where I learned online project management, usability and user experience. Conversely, when the team sadly split up, even though I returned to working for an agency, I knew it wasn't really what I wanted. So when my partner started to tell me about his idea of a new kind of travel tool – we have been very enthusiastic travellers and couch-surfers – I jumped to the opportunity to start working on it. It was not only something that I knew 'our kind of traveller' would want to use, but also a great challenge from the information, architecture and the user experience point of view.
Has it been a smooth journey?
I don't really have a clear answer for this. The values we built the company and the brand around have always been clear, which helps! We got amazing feedback from our users and we have a very good relationship between all 4 of the founders. So product development-wise it was quite smooth.
But there are always stressed-out periods, times when you have no idea what to do, how to pivot if at all, there are arguments and a lack of money… and even today there are a ton of questions and uncertainty. I would say it's a lot of fun, you learn amazingly amounts and it definitely beats working for somebody else, but building a start-up is not something for the fainthearted. 🙂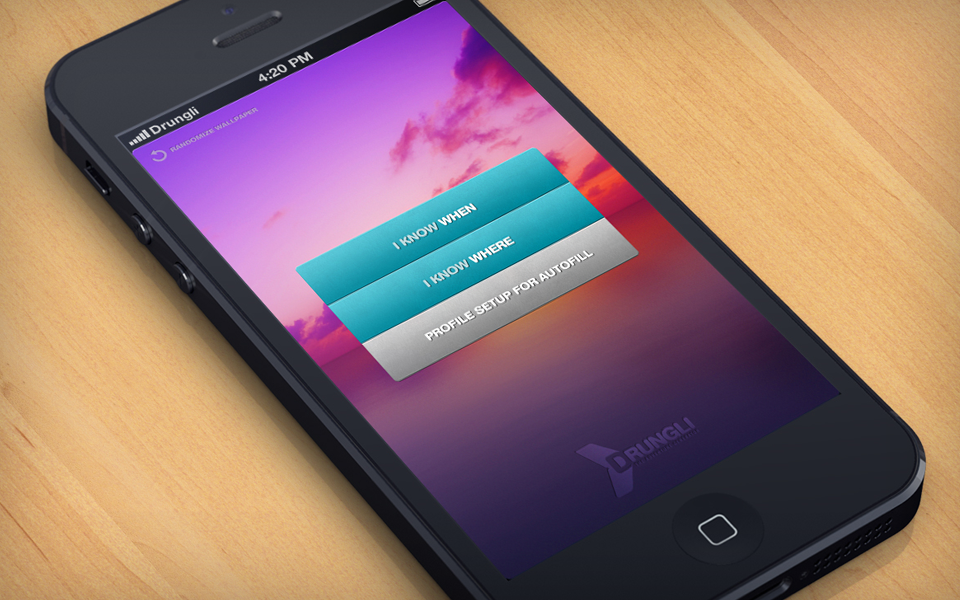 What makes Drungli unique?
Drungli is unique because we put the person, the traveller, first and then build the technology around their needs. Most of the big players don't have the luxury of starting from scratch, they can play around with what they already have, but we have a great deal of freedom to make Drungli exactly the way we (and the users) want it.
This is why we are building out own database, getting data directly from the airlines, the search engine and search scenarios – all these aspects are intertwined if you want to create a really good services. And then of course it helps that we are travellers ourselves and we're scratching our own itch. We know how surprise and adventure are still very appealing elements of travel, but it's harder and harder to get in our over-organized and over-sharing world. We believe that with a bit of playfulness, you can claim it back.
How does it add value to your clients?
We create search scenarios that are based on the needs of a new generation of travellers: they are more flexible, allow you to check multiple options at once, very quickly, so we are saving a lot of time.
Then we do this with great design, and inspiring look where there is no social media noise or AdWords. I find that planning and booking is a great stress for a lot of people due to poor usability decisions of the service provider – so it's a great advantage that they don't have to encounter the usual overstuffed design they see on many other travel planning sites.
And third is the element of spontaneity: we all want to be adventurous and free and happy…we just don't really seem to find the time for it. With such a small thing that we show them the cheapest prices out of the city in a few seconds, and prices that are really economical, hopefully to new destinations, we are able to make our users feel free to move and experience again.
Any advice you would give to start ups at the beginning of the journey you've already been on with Drungli?
Figure out how to make money first. 🙂
Seriously, I find that having a clear focus on the business plan makes things much easier. It focuses your workflow and you'll be able to prioritize much better. It helps with finding investors and, most importantly, it seriously reduces stress if you are able to maintain the company by its own revenue.
The other thing I wish I would have understood when starting out, is how important the network is. I don't say go and spend all your week nights at meet ups, but reaching out to people one by one is not that scary or as impossible as it sounds. You should start doing it the first day you even consider having a start-up idea! You can tap into a great resource of advice, partners, positive peer pressure, mentors, future investors and sometimes, only by sheer chance, you can stumble onto great opportunities this way.
Are your roots in East London? If not, what has brought you to Tech City?
No, but we've been lucky to be included in the Bloomberg's GROW 2 program. I also have family and friends here, and I always have loved the city, so I'm always happy to spend and work a couple of days from London.
What's next for Drungli?
Accommodation search integration, which is again an interesting challenge to work on and make the user flow smooth – a new blog design, where we can also test a couple of ideas for the future, and a crowd funding campaign. I came to belief that it is the ultimate validation – if your users/clients want your product, they will pay for it. If not, then you probably shouldn't be investing so much time, effort and money anyway!
Shoreditch Office Space loves Drungli and would like to extend a massive thank you to Orsolya Toth for taking the time to share her thoughts with us.
Follow @Drungli or visit www.drungli.com/
For more information on Shoreditch Office Space, and how we can help with your next property search, please contact sales@reesa.com