Serviced offices have been around in some form since the early 1960's but these early attempts at business centres would be unrecognisable from the flexible workspaces we know today.
Over the past five decades the serviced office has transformed drastically, splitting into many different forms and constantly evolving. It is now estimated that the serviced office industry accounts for around 18% of London's office market.
The popularity of serviced office space is unquestionable, with a transient identity perpetuated by innovative minds. For this reason we see no end to the evolution of the serviced office.
What is a serviced office?
Put simply, a serviced office is an office in a building managed by a facility management company, sometimes referred to as a business centre. A serviced office provider offers tenants fully equipped office spaces within one building.
Tenants typically rent one or more private offices within the building and share communal facilities such as kitchens, toilets and a reception.
The building is maintained and managed by the centre team and the services they and the building provide vary between each supplier.
Who would use a serviced office?
Due to their flexible nature, serviced offices have long been popular amongst SME's and start-ups who require shorter term leases. Today they are used by business across all industries and are favoured by a range of different sized businesses.
They provide an 'easy in, easy out' solution to organisations that need to set themselves up quickly and for this reason they are now integral to many companies long and short-term office space strategies.
Serviced offices come in all shapes and sizes meaning there are business centres suited to all companies.
What is included in a serviced office in London?
So what is actually included in a serviced office in London? While this seems like a straight forward question, the answer will vary from provider to provider so it is best for us to start with the basics.
We like to compare moving into an office space with checking into a hotel. From the moment you sign your contract you will have everything you need to get on with your business.
This means a serviced office will come with all furniture (desks, chairs, pedestals, cabinets etc), phones and internet connections, electricity and essential facilities such as toilets and a kitchen.
All you need to bring is your staff, your devices (laptops/PC's and printers etc) and any office furnishings and branding that you wish to make the place feel home.
You can also generally expect premises management and on site staff to help you with facilities management.
All costs for the above will be inclusive of your office contract and will typically be included across all serviced office providers.
Most business centres offer IT and Telecoms as part of your contract and will be able to set these connections up prior to your arrival.
Different packages are available in terms of strength and speed of internet.
Business centres will assign phone numbers for your business and will offer divert, transferring and voicemail services.
The majority of serviced offices will benefit from a manned reception. Depending on the business centre, receptionist are able to take calls on behalf of your company, meet and greet your clients and even perform a range of secretarial services such as printing, faxing and binding documents.
Upon signing your contract your business will be registered at the address of your centre. You can receive post addressed to your company at this address.
Most business centres have staff sort and deliver your post when it arrives and offer outgoing mail services including franking (franking costs will likely be added on top of your monthly payment).
Most serviced office providers dedicate sections of their buildings to meeting and conferencing facilities. Some centre's will offer one or two meeting rooms suitable for between 2 – 15 people, whilst others have rooms that can accommodate functions of over 100 people.
It will depend on the business centre as to whether meeting room usage is included within your monthly payments. Many will offer a set amount of free use and discounted use after – but some offer rooms totally free.
Serviced offices without allocated meeting room space will often offer tenants the opportunity to book space across their portfolio of buildings at special rates.
Kitchens in serviced offices are managed by the centre staff and are characteristically stocked with milk, coffee, tea and sometimes the odd bowl of fruit and biscuits (again, this really depends on which serviced office you are in)
Additional catering can often be requested such as breakfast, lunches and food for special events.
In addition to kitchen areas, some business centres will have communal areas for all tenants to use. These could come in the form of a co-working style lounge or simply just a room with dedicated chairs and tables for informal meetings and lunch breaks.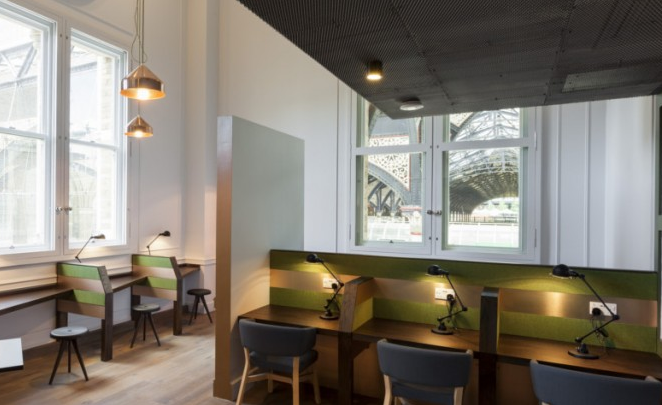 Providers such as WeWork and The Office Group offer generous breakout areas and often include excellent facilities within (such as coffee machines, fresh juice and the odd ping table).
Certain serviced office will provide 'out of the ordinary' facilities. These could include a gym, editing/screening suites (usually found within media focused business centres), games rooms and libraries.
Bicycle racks and showers are becoming a more regular feature, especially in new buildings.
In addition to physical features many business centres focus on creating a community, rewarding their tenants with weekly or monthly networking and social events.
More Information on Serviced Offices in London
If you require more information about serviced offices in London get in touch with our team using the details provided below. 
For currently serviced office space availability please check our home page updates.
Telephone: 0203 434 3870